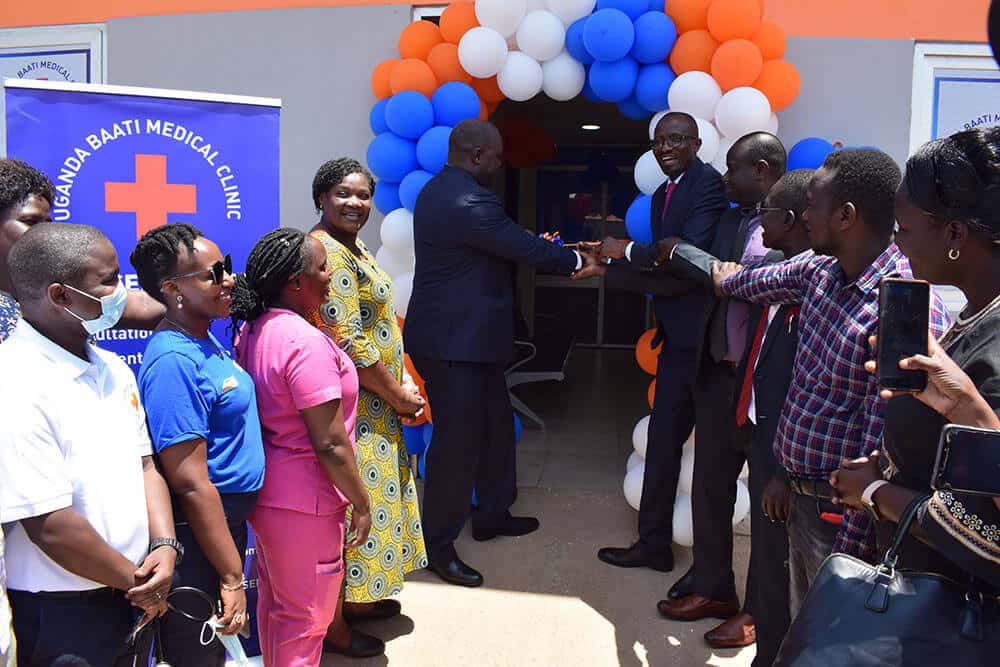 Uganda Baati Medical Clinic-Tororo opened, to offer quality healthcare services to the community.
Uganda Baati Limited a member of SAFAL Group, has launched a second medical facility, Uganda Baati Medical Clinic-Tororo, a company healthcare initiative, aimed at providing first-class primary healthcare to company staff and the community, at a significantly subsidized cost. It is one way that Uganda Baati gives back to the community around its business operations and the country at large.
Uganda Baati Medical Clinic is a community not-for-profit clinic, started in June 2006, within the premises of the company in Kampala where the company has a fully-fledged community health facility at Mulwana Road. The main objective is to offer quality, superior, patient-centred and cost-effective health care to the community members. Uganda Baati Medical clinic's 3-year strategy includes looking to expand the depth of services, to pediatric services, and obstetrics, offering specialized services at a more subsidized fee and family planning services.
Speaking at the clinic launch in Tororo, Uganda Baati's Chief Executive/Business Head, George Arodi said, "The Uganda Baati Clinic-Tororo is the second clinic we open, it will offer subsidized yet quality health services to the surrounding community members who otherwise couldn't afford them at market rates. The clinic will provide outpatient services such as doctor's consultations, minor surgeries, a wide array of laboratory tests, and outpatient treatments. Uganda Baati Limited will absorb a major percentage of the operational costs of the clinic. More services like Childhood immunizations, community sensitization, and medical outreaches will be offered at no cost."
Over many years Uganda Baati Limited and SAFAL Group have developed a systematic and structured approach to Corporate Social Investments (CSI) which is based on our core values. We firmly believe poverty alleviation and socio-economic development in our communities can only be achieved through a sustained approach. The success of our social sustainability is in line with our aim of promoting shared prosperity between the organization and the communities within which we operate. The business has chosen, as its corporate social investment strategy to invest in four pillars, namely, health, education, shelter and the environment.
Talking about the importance of public and private partnerships in order to advance healthcare in our country one step further Dr. Steven Obbo who represented the Minister of Health Hon Dr. Ruth Aceng, noted that, "Private sector players play a critical role in responding to the health care challenges. To put that in perspective he noted that companies like Uganda Baati came out strongly to support the fight against COVID, noting that UBL donated UGX 100 Million to the president's call. We are grateful the government of Uganda has laid a favourable investment environment for these realities. Tororo is a growing business hub, especially in the cement industry, retail and wholesale, Uganda Baati has a branch here and has heavily invested and so many other organizations. The Government of Uganda applauds efforts from those who realize the need to stay mindful of the social realities in the places they operate. It pleases me, therefore ladies and gentlemen, to flag off this worthy and thoughtful intervention here in Tororo District" Dr. Steven Obbo, the Director of Mbale Regional Hospital added

On the same day, Uganda Baati opened a one-day medical camp, that saw over 1000 community members receive free health care services, within and around Tororo town, these had access to free doctor's consultations, dental examinations, eye examinations, cervical cancer screening, laboratory tests (Hepatitis B screening, malaria RDT, blood glucose, and HIV testing), free medications and a blood donation in partnership with Uganda Transfusion services. -Mbale branch.
Mr. George Arodi, implored the community to make use of this facility and called upon all the local leaders to mobilize the community to access professional health services at the new Uganda Baati Medical clinic-Tororo branch, "We have full confidence in the medical team selected by the UBL management, and we are excited about the promising relationship we have with the district leadership and other players in the health sector particularly here in Tororo."
-End-