The Leadership team at the leading Steel manufacturing company in Uganda- Uganda Baati Limited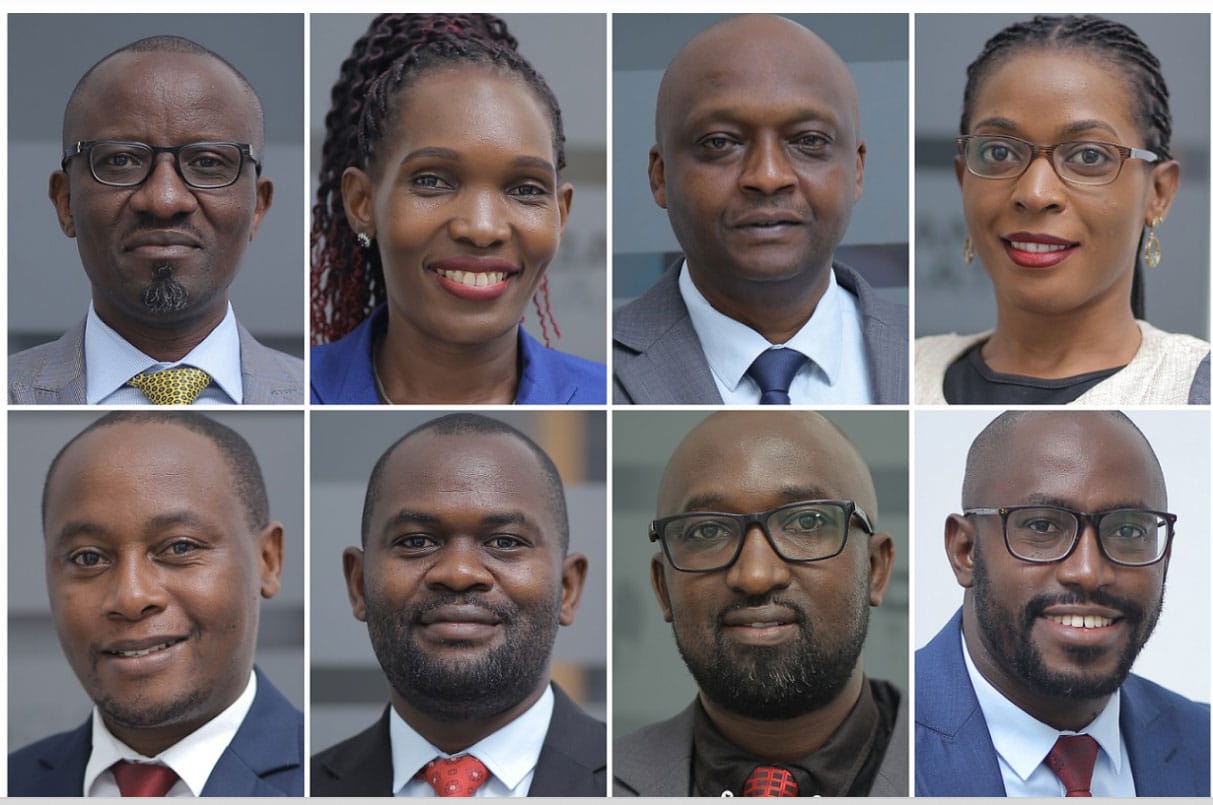 No company is greater than the sum total of its people and indeed, in the words of Management guru, Jack Welch, "no company, small or large can win over the long run without energised employees who believe in the mission and understand how to achieve it."
Similarly, for Uganda Baati, its success is built on it's the grit of its over 300 men and women that make up its permanent staff, but equally important on its leadership who oversees the delivery of its mission and vision. According to Amon Aruho, the Uganda Baati Head of Human Resource, "People are what drive Uganda Baati.
"Our people are the glue that has been holding together all the other success drivers that have been pivotal in sustaining our 58-year-old legacy as well as the ability to meet the expectations of our shareholders and our community," says Aruho.
Aruho adds that over time, the company has built a strong people culture, underlined by a "strong belief in diversity; care for our employees, customers and community, as well as a commitment to superior quality, integrity and compliance."
George Arodi, the Business Head, of Uganda Baati, says that this culture of performance has been a result of deliberate and top-notch investment in its people with a special focus on home-grown talent.
"As a result, 95% of all senior positions are homegrown talent," he says.
But who are some of these senior leaders at the helm of Uganda Baati's rise to become Uganda's trusted provider of building solutions?
CEO East Africa Magazine, this week shines a light on Uganda Baati's senior leadership.
GEORGE ARODI
Business Head/CEO
George Arodi, the Chief Executive of Uganda Baati Limited, describes himself as a results-driven leader with more than 28 years of experience in the steel sector in the Eastern Africa region.  
A graduate of the University of Nairobi, he started his career with Mabati Rolling Mills Ltd (MRM) in Kenya, the flagship company of the Safal Group family, as an Exports Officer. For 17 years, he grew through the ranks, holding various positions, till he was appointed the Exports Manager in 2007.  In 2011,  he was appointed the Head of Business and Director in Ethiopian Steel Ltd, another Safal Group company for a period of 6 years, from 2011 to 2017. It is from here that he was appointed the Business Head, Uganda Baati.
At Uganda Baati, amongst many other achievements, George is credited for leading the company's transformation that has resulted in a 300% growth in profitability, over the past 5 years.
He is also the current Vice Chair of the Uganda Iron and Steel Association, which brings together all the steel manufacturers in Uganda.
Before coming to Uganda, George, among other regional roles, served as the Chair of the Ethiopian caucus of steel sector manufacturers. While in Kenya, he was among the first sitting Board members of the Kenya Shippers Council. He also chaired the sub-committee on Regional trading blocs within Kenya  Manufacturers Association (KAM) and was also a member of the Trade and Tax Committee within KAM, which saw him play a critical role in the Kenyan private sector delegation during the negotiation of the EAC Protocol during the formation stages of the East African Community (EAC).
ERINAH MASIGA
Head of Finance
Erinah Masiga is a seasoned and highly qualified finance/accounting expert with extensive experience in navigating business growth through exceptional financial planning and cost-cutting initiatives; fostering profitability and strategic organisational efficiency.
She describes herself as a "results-oriented professional, with a track record of ensuring compliance with subsidiary charter/bylaws, parent organisation policies, and any applicable regulation."
In her role, she is also responsible for ensuring the business complies with the Finance and Accounting Standards (IFRS).
She is also in charge of leading credit portfolio management and creating capital financing strategies, including structured finance products, to lower the cost of capital for the organisation. Amongst key professional skills in financial analysis & modelling, accounting & financial reporting, forecasting & budgeting, balance sheet/P&L management as well as credit risk management and policy & security analysis. Other skills include cost estimation & management, capital structure & financing, compliance and audit, internal controls & advisory, revenue cycle management, contracts negotiations, insurance & risk management, financial recordkeeping oversight and cash flow projection.
Erinah joined Uganda Baati as an Accountant and had by 2013 risen to become a Senior Accountant- Accounts payable. She then rose through various other roles such as Senior Accountant – Treasury (2016 – 2017), and Management Accountant (2018 – 2019), before being appointed Head of Finance in 2020.
She, amongst other qualifications, holds a Master of Business Administration from the Edinburgh Business School – Heriot-Watt University and a Bachelor of Science in Industrial Chemistry, from Makerere University Kampala. She is also a  Certified Public Accountant (CPA) and a Member of the Institute of Certified Public Accountants of Uganda. She also holds an ACCA qualification.
PATRICK KATENDE
Head Of Service Centers
As the Head Of Service Centers at Uganda Baati, Patrick is in charge of driving sales and revenue growth through 2 key strategic touch points i.e., branches and showrooms. Uganda Baati currently has two branches; at the Head Office and at the Tororo manufacturing plant as well as a distribution centre for West Nile and Northern region in Arua. The company's 10 showrooms are in Masaka, Mbarara, Fort Portal, Hoima, Jinja, Mbale, Lira, Zana, Mukono and Gulu.
Patrick has over 12 years of experience in Sales & Distribution, Renewable Energy and Social Enterprises at Senior Management.
Key skills include channel creation & management, sales optimization, business strategy formulation & execution, marketing and analysis, strong negotiation and presentation, Motivational Leadership and Product development.
Other skill sets include strategic and collaborative partnership identification and development; business analysis, strategy formulation and implementation; stakeholder engagements (internal and external);   and stakeholder engagement.
Before Uganda Baati, Patrick worked with Airtel Uganda in various roles, including, Regional Sales Manager and Head of Home Internet Business. He also worked for Smile Telecoms as the Senior Manager, Indirect Sales. He has also worked for Country Oils and Crestanks Limited.
He holds a Masters's Degree in Petroleum & Gas from Amity University and a Bachelors Degree in Economics from Makerere University.
FREDRICK KANG'ETHE
Head Operations
Fredrick is an experienced and results-oriented professional, with over 10 years of knowledge and experience in supply Chain Management, including; warehouse operations management, distribution management, inventory management, supply and demand planning, transport/fleet management, customer service, procurement, 3PL contracts management and manufacturing management. Aiming to leverage my skills and experience to successfully fill and deliver in a Supply Chain/Logistics Management position.
He worked for Mabati Rolling Mills Ltd (a sister company to Uganda Baati under Safal Group) for close to 19 years, before joining Bollore Transport and Logistics Africa as an Operations Manager where he gained rich experience in customer service.
He later rejoined Uganda Uganda Baati as the Head of Operations and is responsible for plant operations, planning and customer service.
He holds a bachelor's degree in Supply Chain Management from the Jomo Kenyatta University of Agriculture and Technology. He also has a background in mechanical engineering.
A. KUKUNDAKWE
Head Marketing
Macklean Kukundakwe is the Marketing Manager at Uganda Baati Limited, a position she has held since early 2018. In her role, she is responsible for managing the full brand portfolio, establishing positioning for brand growth, developing channel and route to market strategies, and digital communications and working alongside the sales team to grow volumes and market share through robust marketing campaigns and initiatives.
Macklean is a seasoned marketer whose work experience in Marketing and Communications spans a little over a decade, having started as an Adman at fireworks Advertising and later at JWT/ScanGroup where she managed key brands like Vodafone, Pepsi, Centenary Bank, NSSF, and Uganda Insurers' Association among others.
Before joining Uganda Baati, she also worked at Roofings Group as the Brand and Promotions Manager.
Macklean holds a Bachelor of International Business degree from Makerere University Business School (MUBS) and an Executive MBA from The University of Edinburgh. She is also a member of the Uganda Marketers Society.
She is a passionate, tenacious and well-rounded marketer with creativity and innovation, poised with good communication skills, strong negotiator with a passion for strategic thinking and ideation of solutions to solve business challenges.
AMON ARUHO
Head, Human Resources
A strategic human resource professional with over 15 years of experience in projects and manufacturing entities, Amon is passionate about people and harnessing opportunities that impact business growth. He has a good understanding of trade and related processes, legal and compliance, advocacy and key stakeholder engagements including government.
He describes himself as "an ardent believer that organisations perform because of people."
"Where the people resource is exceptionaly put first, without doubt, the organisation will achieve stellar competitive advantage in the market. Leaders must therefore consciously make personal sacrifices towards people development and engagement" he believes.
Before joining Uganda Baati in March 2014, Amon previously worked with Kasese Cobalt Company, a cobalt metal bio-leaching and Hydro power generation plant as Human Resources Manager, Mildmay International as a Curriculum Development Officer and JSI/Deliver as a Logistics Technical Training Coordinator.
"During this time I have been a key player in the transformation of companies. My approach is always strategic in nature from understanding the markets, competition, people and to building strategic connections with the various stakeholders to provide eminent people solutions to the business," he says of his role in the growth of Uganda Baati.
Amon holds an Executive MBA from the Eastern and Southern African Management Institute (ESAMI), Postgraduate Degree in Human Resource Management from the Uganda Management Institute (Uganda) and a Bachelor's degree in Education, Makerere University. He has also attended The University of Queensland (Australia) and the University of Pretoria (South Africa) where he holds certification in Organisational and Employee Development. He is currently pursuing a degree in Bachelor of Laws, at Makerere University.
RICHARD OKELLO
Head IT
Richard is an IT Manager with over 17 years of Experience across various sectors and working on "complex IT security and network development initiatives in the manufacturing sector. Key skills include network security, system administration, AWS, Azure, Active Directory Service, Resource Planning and IT Management.
Richard started his career in 2008 with Invisible Children in Gulu, Northern Uganda for three years, before joining SOS Children's Villages as the National IT Coordinator for 9 years. He joined Uganda Baati in 2019.   
He holds a Makerere University Bachelors Degree in Information Technology.  He is also a Microsoft Certified Professional and  Cisco Certified Network Associate as well as a Cyberoam Certified Networks & Security Professional (CCNSP). He is an Andela-trained Google Cloud Engineer and is a  Certified Information System Audit (CISA) from the Career Academy.
ACIPR – IAN RUMANYIKA (Accredited PR Professional)
Head External and Corporate Affairs   
Ian Rumanyika is a seasoned award-winning Communications and Marketing specialist with experience spanning over 15 years in Public relations and marketing. He is a recipient of the  CIPR- Nairobi University PR Professional Eagle award 2022- and has been recognised by the Vision Group among the Top 40 Under 40 Communications Professionals.
He was also named among the Top 100 Global PR influencers by Commentric International.
As Head of External and Corporate Affairs at Uganda Baati, his role entails giving strategic leadership of Uganda Baati's External Affairs and Corporate Communications including oversight of stakeholder engagement and Public Relations.  He is responsible for managing relationships with Uganda Baati's external stakeholders while building impactful and fact-based advocacy and a strong brand within a competitive environment, in addition to that he is the Ugandan liaison for the Safal Group Africa External, Corporate Affairs and Advocacy for Group consolidations and focused approach on regional matters.
Before joining Uganda Baati in May 2022, he previously worked at Uganda Revenue Authority as Manager of Public and Corporate Affairs for 11 years. At URA, he was at the forefront of changing the image of the tax body to a more service-oriented and appealing institution, with various successful projects and campaigns to his name.
He is a pragmatic and solution-oriented individual, who is known to deliver a track record of assignments including several communication strategies, projects and top-notch campaigns, he aligns goals with broader strategic objectives to solve and deliver solutions to complex as well as challenging strategic business problems using proven PR and communication models.
He holds a Bachelor of Commerce/ Marketing degree and a  Master of Business Administration (MBA) -Marketing and Communication, both from Makerere University.
He also holds a Post Graduate Diploma in Public Relations- CIPR-UK, a Certificate in Professional Marketing – CIM-UK, a Certified Change management professional, PROSCI- Cedar Nairobi, Master Trainer Culture and change Management-Quest Worldwide United Kingdom, a certified Trainer of Trainers by African Capacity Development & Research Institute-
Ian Rumanyika is a member of a number of professional bodies that include, the Chartered Institute of Public Relations-UK (CIPR), Project Management Institute (PMI), Chartered Institute of Marketing-UK (CIM), Public Relations Association of Uganda (PRAU)